Honoring deadlines, delivering promises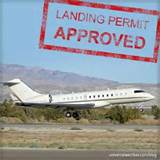 Whether you are operating to Africa, Asia, Russia, the Americas or beyond… Skyblue's 24/7 Overflight and Landing permits team will secure your landing and over flight permits quickly and efficiently. The thoroughness of the in-house permit specialists reflects years of experience in securing clearances worldwide and at short notices.
Skyblue has strong relations with CAAs worldwide, so we are able to ensure that your permit is processed as fast as possible.
Request a Trip Cost Estimate for your next International Trip: ops@skyblue.aero